I am the world's worst pumpkin-carver. Nothing ever turns out how I want and I've cut myself too many times to count. That being said, this year I want to do something different. When I started searching for inspiration, I found so many cute ideas. I thought I would share them with you, just in case you're carving-challenged like I am :)
Chalkboard Pumpkins
I think these
chalkboard pumpkins
are my favorite. I love that they are in pastel colors and are super neutral. The glue-gun lettering is genius too! I can't wait to make these!
Button Boo
This is so cute! I love the idea of using buttons because I have a ton of random buttons. I don't have very many the same color though... I wonder how multi-colored buttons would look. I love the ribbon on top too. Such an easy way to jazz up a pumpkin! I also think it would be adorable to use the buttons to make the shape of a bat. You could print out a picture of a bat and use it as a stencil on the pumpkin.
Glitter Makes Everything Better
As a teacher, glitter is my worst nightmare, but as a crafter, I LOVE it. Glitter just adds a little touch of excitement to any project! Am I right?? The gold glitter on that black pumpkin looks amazing but I don't know how easy it would be to accomplish haha. The polka dots are totally my jam too!
Metal
These
thumbtack designs
are another great way to spruce up mediocre pumpkins. I love that they are easy to use and really modern with the metal touch. I think I want to do a white pumpkin and spell out thankful. How cute would that be??
Characters
Mark and I are going to paint our pumpkins like Disney characters. I am so excited! I also found this idea to make a simple Mickey head. I LOVE the use of two small pumpkins for the ears and the fact that this doesn't require tons of skill haha. Mark is the real artist so we will see how our painted pumpkins turn out. Any tips??
Bonus 6- Candle Holder
Okay one more because I can't stop looking at these cute decor ideas. This one is amazing and would look perfect on the stairs in front of my house... it just takes a little more effort and supplies. The Creative-versa tool that she used to cut the top of the pumpkin looks pretty awesome as well. As I said above, carving/ cutting are not my strong points so I could really use a tool like that. :)
I'm linking up with some of my favorites today. Check out their blogs-
September Farm
,
The Farmer's Wife
,
A. Liz Adventures
,
Carolina Charm
, and
Hello Happiness
.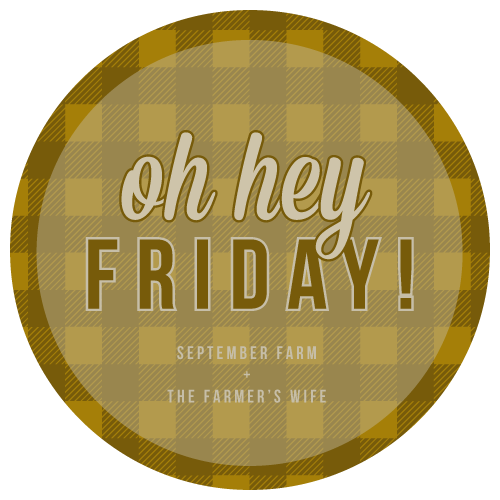 Have a great Friday!